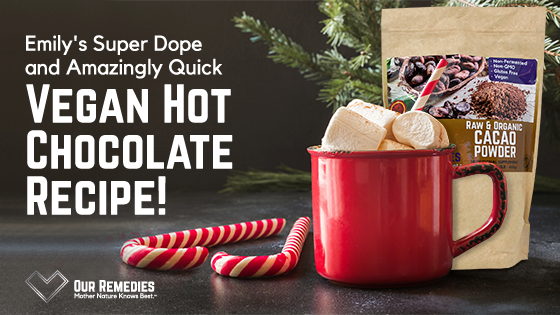 This recipe requires minimal ingredients and takes FIVE minutes. That's right, FIVE DARN MINUTES. WOO. It's perfect for snowy days spent inside, or just any regular day when you just want something easy to cozy up to.
Makes 2 servings
-2 cups almond milk
-2 tablespoons Our Remedies Cacao Powder
-1 teaspoon vanilla extract
-Tiny pinch of salt
-Sweetener of choice (I prefer 2 tablespoons of local Maple Syrup)
-Coconut whipped cream, chocolate shavings, vegan marshmallows (optional)
In a small – medium saucepan, add plant milk over medium heat. Allow milk to heat up before adding the maple syrup, vanilla extract, and salt. Whisk well, then add the cacao powder. Whisk your little heart away to ensure that everything is all mixed well together. Serve immediately in your favorite mugs!
Notes:
The beautiful thing about this recipe is that it's SO easy that you can play around with it and make it your own!
Not a fan of maple syrup as a sweetener? Use sugar or a sugar substitute instead.
Almond milk not your preferred plant based milk? Try soy or oat milk instead!
Want a little extra spice? Try adding nutmeg, cinnamon, and ground cloves.
Want a little extra somethin somethin? Add some peppermint vodka!
The possibilities are endless!